Axon Commander
Evidence management in one powerful system.
Axon Commander is an on-premise application that consolidates all of your digital evidence in one secure location, making it easy to manage and access while maintaining security and chain of custody. Designed to meet the evidence management needs of agencies in regions without reliable high-speed internet access, Commander delivers many of the same features of cloud-based Evidence.com to customers using on-premise storage systems.
Consolidate Evidence

Manage all of your digital evidence in one application, and search evidence based on user, date/time, source, location, metadata, and bookmarks.

Eliminate Manual Storage Processes

Say goodbye to DVDs, VHS tapes and other manual document storage processes. Store digital files on your server for more efficient management, retrieval and sharing.

Maintain Chain of Custody

All activity is automatically logged by the system and access events are reported in a secure audit trail. SHA-2 authentication is performed on all evidence to ensure integrity.

Automate Digital Workflows

Import and move files from one storage location to another, or tag and automatically grant access to prosecutors.

Maximize Storage Investment

Catalog your digital evidence based on its importance, store it in the system of your choosing and automatically delete files based on configurable retention policies.
Commander may be deployed in various configurations, such as a stand-alone system or in a centralized configuration with multiple Commander instances. The following illustration demonstrates how a Commander installation can be used to interface between multiple precincts and a centralized headquarters (HQ), implementing a centralized configuration of Commander.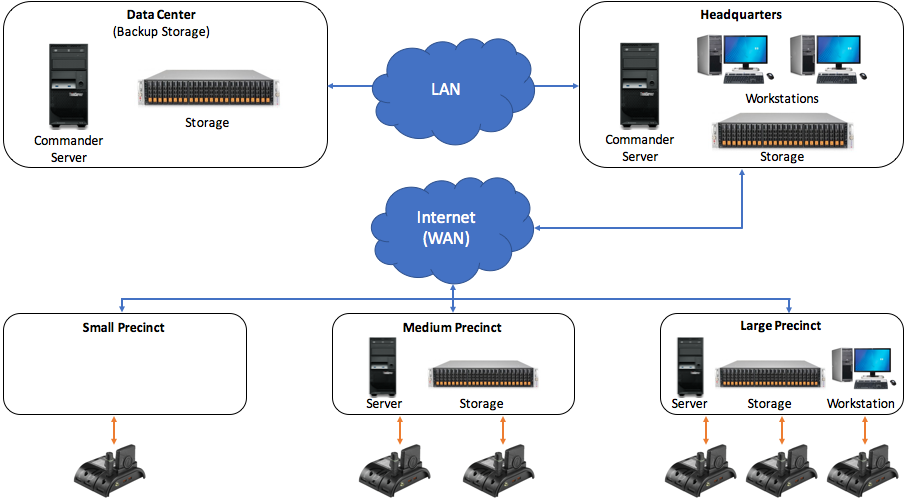 Features & Benefits
File Management: Organize evidence based on a workflow that makes sense to our agency, using a configurable folder structure that enables you to manage evidence based on case number, evidence type, or crime. Schedule retention periods for each individual folder.
Evidence Sharing: Share evidence with others over a network using Commander's edge server functionality, or create a DVD within Commander for physical sharing while maintaining chain-of-custody. Print custom labels on DVDs with barcodes for inventory management, or case number and contents for identification.
Large Agency Management: Manage large deployments with Active Directory integration, operational group permissions, and bulk evidence tagging.
Simultaneous Video Playback: Select multiple video files, including different formats, and play them back simultaneously.
Extensive & Proprietary Video Support: Support for proprietary video formats through Commander's extensive codec library or third-party player options.
System Integration: Integrate Commander with other hardware and software platforms by developing third-party plugins.
Redaction: Redact any photo or video object, including faces, license plates, and other sensitive images with the use of Axon Five desktop software.
Axon Commander is available on Windows Server 2008 R2 or later and Windows 7 or later.
Product Specification
| | | | |
| --- | --- | --- | --- |
| PROPRIETARY VIDEO SUPPORT | Support for proprietary video formats through our extensive codec library or third-party player option (see below for supported file types) | VIDEO  | MJPEG, mp4, AVI, G64 (Genetec), AV (Panasonic), PEF (Pelco), OML (OnSSI), SMD (Cisco), MKV, WMV, 3GP, ASF and more |
| GEO FENCE QUERY | Query assets based on geo-spatial information and time | PHOTOS  | jpeg, png, gif, tif, bmp, raw and more |
| WILD CARD SEARCH | Search for any keyword within any metadata throughout the entire system | AUDIO  | mp3, wav, wmv and more |
| MAPPING PLAYBACK | Any video files containing GPS coordinates can play back a map in sync with the video | DOCUMENTS  | doc, docx, pdf, xls and more |
| SIMULTANEOUS VIDEO FILE PLAYBACK | Select multiple video files, including different formats, and play them back simultaneously | | |
| TIERED STORAGE LOCATION SUPPORT | Manage file storage locations based on events and cases | | |
---
Automate your workflow.
Manage evidence and file with Axon Commander, while protecting the integrity of your data. Fill out the form to contact our sales team, or view our purchasing options to see which solution is right for you.
Looking for Support?
We're committed to keeping your equipment up and running. Contact support for any issues with your current suite of devices and software.
Related